An album from veterans living through their mental health journeys
October 27, 2021 – The Canadian Mental Health Association of New Brunswick (CMHA of NB), in partnership with Pathways to Better Days and StudioZ Productions is embarking upon volume two of Music for the Mind with a veteran's edition, this album is a mental health anti-stigma awareness project aimed at highlighting veterans who write songs or sing music about their mental health journeys and inspirations.
Imagine, by John Lennon, is possibly one of the most iconic songs of all time. John Lennon had a vision… "Imagine all the people living in a world of peace." "Imagine all the people sharing all the world."
Lennon brought out a wealth of feelings worldwide with his lyrics. "We like to imagine what emotions this song or other songs resonate with people! Music, no matter the genre brings up memories, evokes emotion, calms the soul, and offers a release from stress. This second edition of Music for the Mind: Veterans Edition will connect veterans to each other through stories and song, and give civilans an opportunity to step into the shoes of those that chose a career to protect us" says Christa Baldwin, Executive Director of CMHA of NB.
Music for the Mind: Veterans Edition is a project that seeks lyrics in song about mental health or a personal journey with mental health. Whether a person has already penned lyrics on a piece of paper, written a full song, or is inspired to write a song about a mental health journey, CMHA of NB wants to hear about them! Selected applicants will have the opportunity for their song or lyrics to be produced and be part of a 12-song compilation album to be released online in the fall of 2022.
Grace Shears, Founder and Veteran of Pathways to Better Days says "we are thrilled to join in harmony with CMHA of NB as together, on this journey of hope, we honor our veterans' stories and mental health through song. We truly believe that music heals the soul."
A call for submissions for original lyrics and/or songs… Music for the Mind: Veterans Edition will roll our in four phases:
Call for lyrics or songs: if you are a veteran who is an accomplished musician, a singer/songwriter, songwriter, poet, you just like putting words to paper, and want to create music Music for the Mind: Veterans Edition wants to hear from you!
To apply, visit CMHA of NB website: www.cmhanb.ca/musicforthemind-veterans
Deadline: January 31, 2022
Selection: A panel of music industry professionals and artists will select 12 submissions from the applications. Selected submissions will be announced on February 28, 2022.
Production: songs will go into production with music producer Mike Oz of StudioZ Productions in the spring of 2022.
Release: Music for the Mind: Veterans Edition will be unveiled and become available to the public during the fall of 2022 (more details to come).
Submission to Music for the Mind: Veterans Edition is by donation. Submissions are open to veterans who are residents of Canada. All artists will retain the rights to their material, with permission given to CMHA of NB to promote, feature as an exhibit and/or raise funds that will aid in offering mental health programs to people who need assistance in New Brunswick.
Be inspired, be creative, show resilience … Music for the Mind: Veterans Edition!
For more information contact: Lori Wheeler, Director of Communications, CMHA of NB (lori.wheeler@cmhanb.ca)
Submissions are now closed to Music for the Mind – Veterans Edition
Thank you to all those who submitted their music!
---
Our Partners
Pathways to Better Days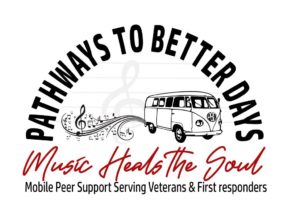 Pathways to Better Days is a registered, Not for Profit Foundation that was originally developed as a PTSD peer support group by a Veteran in July of 2019. Our doors are open to all as our hope is to create a diverse and inclusive community where uniforms do not define the individual. Everyone wears a uniform to some extent as we journey through life. Whether it be a soldier or a mom. As peers we grew stronger together and we focused on erasing the stigma surrounding mental health and separation that exists in today's society. We highlight the growth side of PTSD and trauma through sharing conversation that helps us develop strategies and tools to deal with our daily challenges associated with living with PTSD and trauma.
We incorporate music with our meetings and quickly recognize the profound effect that music has on individuals attending the group from all walks of life. We expanded our audience and created a Facebook sister group called Pathways to Better Days – Music Heals the Soul. Through song writing, peer support and music our diverse community continues to grow on a global level. We host weekly local jam sessions, support groups and offer mobile outreach to those in need of comfort through the harmony of music. Testimonials show that our methods of combining music with peer support have been contributing factors to their overall improvement in their health and wellness.
We are on a mission to connect Veterans and First Responders living with PTSD and trauma to our safe and inclusive community of likeminded people. Our vision is to one day have our own healing haven that will enable us to expand upon the existing Pathways to Better Days community on a more personal level. We aim to inspire and empower our peers to their highest potential through connection and music. We continue to explore pathways to innovative ideas of integration of music into our healing platform through nature, family inclusive programs, healthy eating, mindfulness and movement. This year, Pathways to Better Days is thrilled and honored to be partnering with CMHA of NB as together we launch the Music for the Mind – Veterans Edition. Thank you for this amazing opportunity! #MusicHealstheSoul
"It's an incredible honour to be able to extend this opportunity to our Veterans allowing them to explore their personal journeys creatively. Through the universal language of music, we can all open doorways to continued healing, sharing and new connections" – Wanda Rossiter, Co-Founder of Pathways to Better Days.
StudioZproductions

StudioZproductions is a boutique audio recording facility located in Moncton, NB. Mike Oz is a veteran music producer and a trained mental health counselor. "When I was first asked to produce this project, I was on board instantly as it fuses my passion for music and mental health advocacy. The energy around this compilation has been incredible. Living the emotions all these artists brought forward was intense and unforgettable."